Model A and Henry Ford's Later Career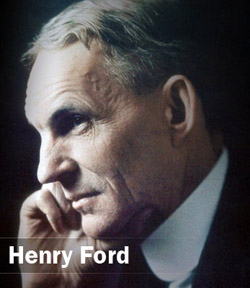 By 1926, flagging sales of the Model T finally convinced Henry to make a new model. He pursued the project with a great deal of technical expertise in design of the engine, chassis, and other mechanical necessities, while leaving the body design to his son. Edsel also managed to prevail over his father's initial objections in the inclusion of a sliding-shift transmission.
The result was the successful Ford Model A, introduced in December 1927 and produced through 1931, with a total output of more than 4 million. Subsequently, the Ford company adopted an annual model change system similar to that recently pioneered by its competitor General Motors (and still in use by automakers today). Not until the 1930s did Ford overcome his objection to finance companies, and the Ford-owned Universal Credit Corporation became a major car-financing operation.
Ford did not believe in accountants; he amassed one of the world's largest fortunes without ever having his company audited under his administration.
Mitch Taylor
New South Wales, Australia