Miscellaneous Henry Ford Facts
Ford was the winner of the award of Car Entrepreneur of the Century in 1999.
Ford published a book, circulated to youth in 1914, called "The Case Against the Little White Slaver" which documented many dangers of cigarette smoking attested to by many researchers and luminaries.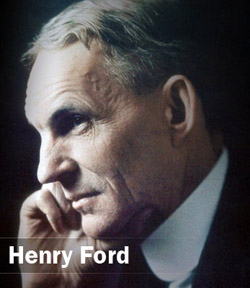 Ford dressed up as Santa Claus and gave sleigh rides to children at Christmas time on his estate.
A compendium of short biographies of famous Freemasons, published by a Freemason lodge, lists Ford as a member.
Ford was especially fond of Thomas Edison, and on Edison's deathbed, he demanded Edison's son catch his final breath in a test tube. The test tube can still be found today in Henry Ford Museum.
In 1923, Ford's pastor, and head of his sociology department, Episcopal minister Samuel S. Marquis, claimed that Ford believed, or "once believed" in reincarnation. Though it is unclear whether or how long Ford kept such a belief, the San Francisco Examiner from August 26, 1928, published a quote which described Ford's beliefs:
I adopted the theory of Reincarnation when I was twenty six. Religion offered nothing to the point. Even work could not give me complete satisfaction. Work is futile if we cannot utilise the experience we collect in one life in the next. When I discovered Reincarnation it was as if I had found a universal plan I realised that there was a chance to work out my ideas. Time was no longer limited. I was no longer a slave to the hands of the clock. Genius is experience. Some seem to think that it is a gift or talent, but it is the fruit of long experience in many lives. Some are older souls than others, and so they know more. The discovery of Reincarnation put my mind at ease. If you preserve a record of this conversation, write it so that it puts men's minds at ease. I would like to communicate to others the calmness that the long view of life gives to us.
Mitch Taylor
New South Wales, Australia