How to Drive a Ford Model T (Part 2)
The lever to the right is the throttle lever, there is no foot pedal like a modern car. Up is idle speed, down is as fast as it will go. Maximum performance in a Model T is like with a mule, with both ears laid back.
Next, the foot pedals on the floorboard – The left foot pedal changes your forward gear ratios, up is high, down is low. The Model T has just those two forward ratios, high gear and low gear. Midway between high and low is the neutral "out of gear" position of the left pedal.
To engage first gear, let the handbrake lever off and push the pedal all the way down until it becomes HARD. Pull the handbrake up and feel how the lever holds neutral position on the gear pedal.
The center pedal is for reverse gear engagement, but either the hand lever or the left pedal must be in neutral position before engagement, or the engine will stall. All the way down HARD is reverse position.
The right pedal is the brake. It engages a band around a braking drum in the transmission, operating in the engine oil bath. Therefore, to avoid burning off the oil due to friction heat, and wearing out the band quickly, apply the brake in relatively short duration thrusts to allow the oil to wash and continue lubricating and cooling it.
Note: The Ford Model T only applies braking to the rear wheels.
Braking by right pedal is via the driveline to the rear wheels only, does not actuate the rear drum brakes, and can cause dangerous skids in slick road conditions, as the differential will allow one wheel to spin forward and the other backward. Therefore, in slick conditions, use the hand lever to apply braking to the rear drum brakes.
Get the feel of the controls, they will become familiar quickly.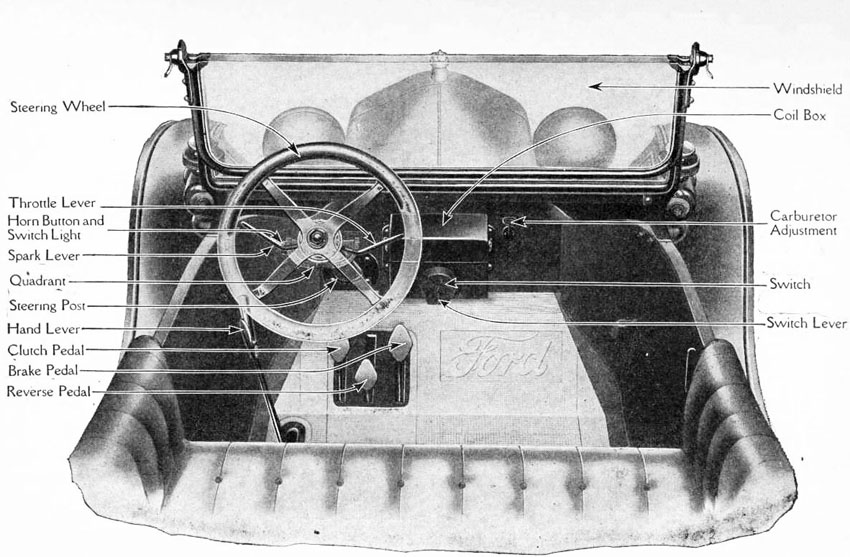 Mitch Taylor
New South Wales, Australia