Ford, like other automobile companies, entered the aviation business during World War I, building Liberty engines. After the war, it returned to auto manufacturing until 1925, when Ford acquired the Stout Metal Airplane Company.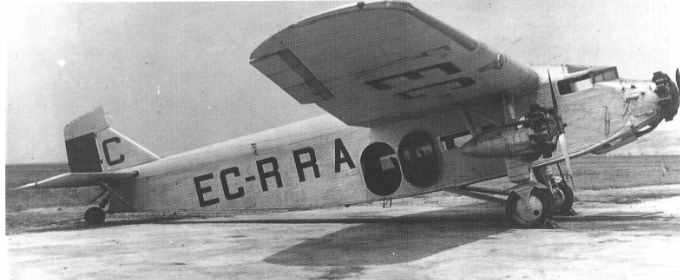 Ford's most successful aircraft was the Ford 4AT Trimotor, often called the "Tin Goose" because of its corrugated metal construction. It used a new alloy called Alclad that combined the corrosion resistance of aluminum with the strength of duralumin. The plane was similar to Fokker's V.VII-3m, and some say that Ford's engineers surreptitiously measured the Fokker plane and then copied it. The Trimotor first flew on June 11, 1926, and was the first successful U.S. passenger airliner, accommodating about 12 passengers in a rather uncomfortable fashion. Several variants were also used by the U.S. Army. Ford has been honored by the Smithsonian Institution for changing the aviation industry. 199 Trimotors were built before it was discontinued in 1933, when the Ford Airplane Division shut down because of poor sales during the Great Depression.
Willow Run
President Franklin D. Roosevelt referred to Detroit as the "Arsenal of Democracy". The Ford Motor Company played a pivotal role in the Allied victory during World War I and World War II. With Europe under siege, the Ford company's genius turned to mass production for the war effort. Specifically, Ford developed mass production for the B-24 Liberator bomber, still the most-produced Allied bomber in history. When the planes started being used in the war zones, the balance of power shifted to the Allies.
Before Ford, and under optimal conditions, the aviation industry could produce one Consolidated Aircraft B-24 Bomber a day at an aircraft plant. Ford showed the world how to produce one B-24 an hour at a peak of 600 per month in 24-hour shifts. Ford's Willow Run factory broke ground in April 1941. At the time, it was the largest assembly plant in the world, with over 3,500,000 square feet (330,000 m).
Mass production of the B-24, led by Charles Sorensen and later Mead Bricker, began by August 1943. Many pilots slept on cots waiting for takeoff as the B-24s rolled off the assembly line at Ford's Willow Run facility.
Mitch Taylor
New South Wales, Australia