Another car show …
Farley Gates Sports Oval
Boundary St, Gloucester, NSW
Saturday, 27th July, 2013 – 9:00am – 3:00pm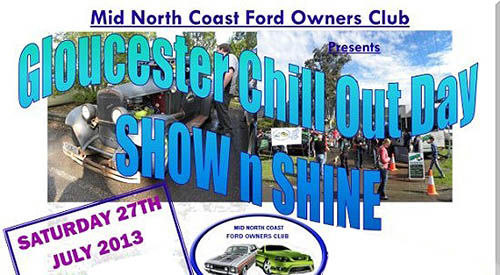 Chill Out as a festival in Gloucester evolved because the local business houses saw it as a way of developing a fun event that could celebrate a sense of community and potentially attract visitors to shop in Gloucester. The event generally brings in a number of market stalls that set up in the main street and create, with the childrensactivities a real family festival atmosphere. This year the Chill Out event will be held on the 27th of July.
In many respects this event is still about celebration of community and recognising the value of the commercial and retail centre as well as providing a carnival type atmosphere as the street closures allow for the entertainment and small stalls that bring a variety of new products into the town centre. This year we will once again have the wine and cheese as well as a couple of brewerys. To make your experience that much more enjoyable we will have a jazz trio to entertain you while you taste test the fine wines our region has to offer as well as cheese platters. There will also be a band and a number of other performers.
Last year the Show and Shine was a major attraction drawing historic and modern cars from the Hunter and North Coast with the largest participation yet, and was held within the main street. This year it will be held within the Farley Gates area in Denison Street.
The event is about fun and in keeping with that the event organisers have looked at increasing the number of activities for the younger generation. There will be the ever popular Dog Show, Donut Eating Competition and carnival rides – Donut Ride, Giant Tiger Slide, Jumping Castles, Fairy Floss and Dip n Dots Ice creams to name a few. And don't forget to catch a great lunch at one of the many cafes in town.
This time we will have a Chain Saw Racing Competition with a number of competitors. This will be a great new addition to the entertainment on the day.
And don't forget the playground of artificial snow for the kids within the Billabong Park.
However what we should not forget is that the event is primarily a showcase of the local shopping precinct and the wide array of unique goods and services that are available and the opportunity to engage in that experience amongst the bargains that local businneses will provide as part of the event.
Mitch Taylor
New South Wales, Australia