Before the Model T, most cars cost lots of money. Only people with lots of money could afford them. Even Ford's cars before the Model T cost a lot of money. The model t went for around $980. A car built in 1903 called the Oldsmobile Curved Dash was very easy to buy, but was a very simple and slow car that was more like a buggy than a car.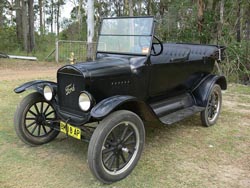 The man who owned the company, Henry Ford, heard about meat being packed on an assembly line, which moved meat from worker to worker so that the meat could be cut up. No one had ever thought to use an assembly line to put cars together. Ford knew that if he built his cars on an assembly line instead of one at a time like other cars, he could make a car that anyone could afford and would be built like cars that cost more money. He also knew that he could pay his workers lots more money.
The Ford Model T car was designed by Henry Ford, Childe Harolde Wills and two Hungarian men named József Galamb and Eugene Farkas. The Model T had a 177 cubic inch (2.9 L) four-cylinder engine producing 20 horsepower (15 kW) for a top speed of 45 miles per hour (72 km/h). The engine had side valves and three main bearings. Fuel economy was 14 to 21 miles per gallon (6 to 9 km/l), an excellent number even today.
Mitch Taylor
New South Wales, Australia