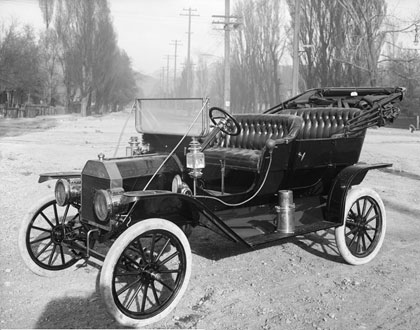 Putting the World on Wheels
In simple terms, the Model T changed the world. It was a powerful car with a possible speed of 45 mph. It could run 25 miles on a gallon of gasoline. It carried a 20-horsepower, side-valve four-cylinder engine and two-speed planetary transmission on a 100-inch wheelbase. Important to the long-term success of the Model T was Childe Harold Wills' experimentation with the properties of vanadium steel, which resulted in the lightness and durability that was an important trademark of the Model T.
Mass Production Begins
In October 1913, mass production of the Model T began at Ford's Highland Park, Michigan, Assembly Plant. Henry Ford had previously organized men and components to enhance Model T production, but the moving assembly line quickly improved chassis assembly speed from 12 hours and eight minutes to one hour and 33 minutes.
In 1914, Ford produced 308,162 cars, more than all other automakers combined. It was also in 1914 that the Model T, in the interest of streamlining production, was no longer available in red, blue, green or grey; it was now available in "any color so long as it is black." Mass production did, however, allow for flexibility in the price tag. Introduced at $825 (for the Runabout), the Model T's price dipped as low as $260 in October 1924.
Changing Times
Few things other than the price tag ever changed on the Model T: Electric lights were introduced in 1915, the radiator shell went from brass to black in 1916, and in 1919 an electric starter became an option on the closed cars. These would be the only modifications until the mid-1920s, when Henry Ford gave in to pressures to modernize the car and began experimenting with a series of changes.
End of an Era
The changes, though, were not enough to keep the Model T competitive, and Henry Ford finally decided it was time to cease production. After producing more than 15 million Model T's, the assembly line stopped in May 1927. Five months later, on October 27, Ford Motor Company entered a new era as the first Model A rolled off the line at the Rouge Assembly Plant in Dearborn, Michigan.
Global Recognition
As the 20th century drew to a close, the Model T's global significance was formally recognized and honoured. An international jury of automotive journalists and other experts elected the Ford Model T as the winner of the coveted Car of the Century award. The Ford Model T was selected for the significant innovation it represented in its day, as well as its design and its impact on both the auto industry and society itself.
As of 2008, 100 years after Ford Motor Company's Model T changed the world by making personal transportation affordable, the Tin Lizzie is still regarded as a major influence in human history.
Mitch Taylor
New South Wales, Australia