Ford maintained an interest in auto racing from 1901 to 1913 and began his involvement in the sport as both a builder and a driver, later turning the wheel over to hired drivers. He entered stripped-down Model Ts in races, finishing first (although later disqualified) in an "ocean-to-ocean" (across the United States) race in 1909, and setting a one-mile (1.6 km) oval speed record at Detroit Fairgrounds in 1911 with driver Frank Kulick. In 1913, Ford attempted to enter a reworked Model T in the Indianapolis 500 but was told rules required the addition of another 1,000 pounds (450 kg) to the car before it could qualify. Ford dropped out of the race and soon thereafter dropped out of racing permanently, citing dissatisfaction with the sport's rules, demands on his time by the booming production of the Model Ts, and his low opinion of racing as a worthwhile activity.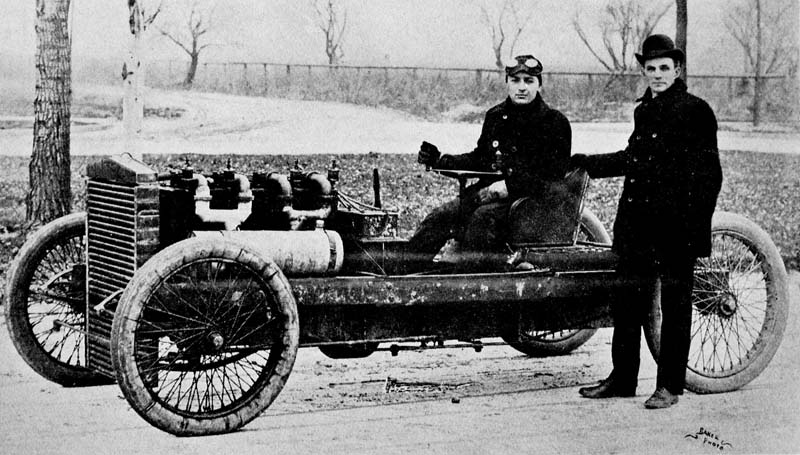 Berna Eli "Barney" Oldfield (June 3, 1878 – October 4, 1946) was an American automobile racer and pioneer. He was the first man to drive a car at 60 miles per hour (96 km/h) on an oval. His accomplishments led to the expression "Who do you think you are? Barney Oldfield?". Oldfield was lent a gasoline-powered bicycle to race at Salt Lake City, which led to a meeting with Henry Ford. Ford had readied two automobiles for racing, and he asked Oldfield if he would like to test one at Ford's Grosse Pointe track. Oldfield agreed and traveled to Michigan for the trial, but neither car would start. In spite of the fact that Oldfield had still never driven an automobile, he and fellow racing cyclist Tom Cooper purchased both test vehicles when Ford offered to sell them for $800. One of those first vehicles was the famous "No. 999" which debuted in October, 1902 at the Manufacturer's Challenge Cup. The car can be found today at the Henry Ford Museum in Greenfield Village.
In My Life and Work Ford speaks (briefly) of racing in a rather dismissive tone, as something that is not at all a good measure of automobiles in general. He describes himself as someone who raced only because in the 1890s through 1910s, one had to race because prevailing ignorance held that racing was the way to prove the worth of an automobile. Ford did not agree. But he was determined that as long as this was the definition of success (flawed though the definition was), then his cars would be the best that there were at racing. Throughout the book, he continually returns to ideals such as transportation, production efficiency, affordability, reliability, fuel efficiency, economic prosperity, and the automation of drudgery in farming and industry, but rarely mentions, and rather belittles, the idea of merely going fast from point A to point B.
Nevertheless, Ford did make quite an impact on auto racing during his racing years, and he was inducted into the Motorsports Hall of Fame of America in 1996.
Mitch Taylor
New South Wales, Australia