By rights, Henry Ford probably should have been a farmer. He was born in 1863 in Dearborn, Michigan, on the farm operated by his father, an Irishman, and his mother, who was from Dutch stock. Even as a boy, young Henry had an aptitude for inventing and used it to make machines that reduced the drudgery of farm chores. At the age of thirteen, he saw a coal-fired steam engine lumbering along a long rural road, a sight that galvanized his fascination with machines. At sixteen, against the wishes of his father, he left the farm for Detroit, where he found work as a mechanic's apprentice. Over the next dozen years he advanced steadily, and became chief engineer at the Edison Illuminating Company.
At twenty-four, Ford married Clara Bryant, a friend of his sister's; he called her "The Believer," because she encouraged his plans to build a horseless carriage from their earliest days together. For as Henry Ford oversaw the steam engines and turbines that produced electricity for Detroit Edison, inventors in the U.S. and Europe were adapting such engines to small passenger vehicles. On January 29, 1886, Karl Benz received a patent for a crude gas-fueled car, which he demonstrated later that year on the streets of Mannhelm, Germany. And in 1893, Charles and Frank Duryea, of Springfield, Massachusetts, built the first gas-operated vehicle in the U.S.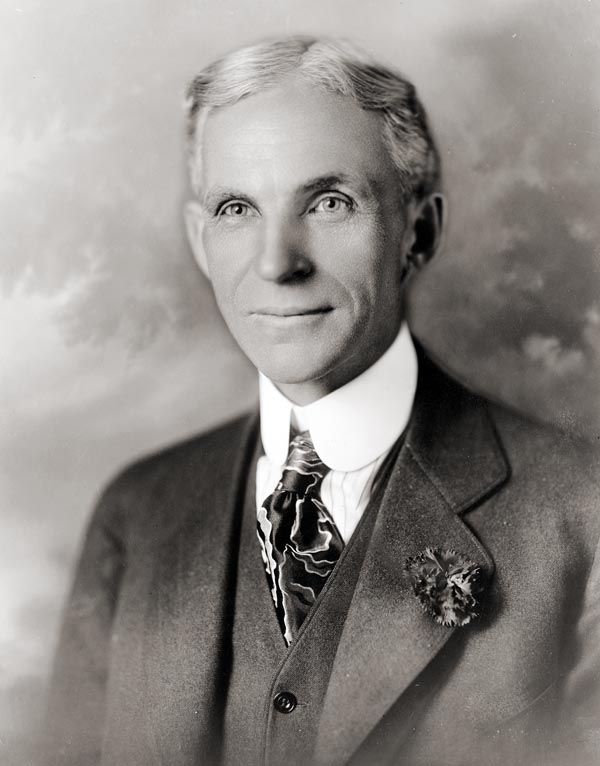 In the 1890s, any mechanic with tools, a workbench, and a healthy imagination was a potential titan in the infant industry. Even while continuing his career at Edison, Ford devoted himself to making a working automobile. In 1891, he presented Clara with a design for an internal combustion engine, drawn on the back of a piece of sheet music. Bringing the design to reality was another matter, but on Christmas Eve 1893 he made a successful test of one of his engines, in the kitchen sink.
The engine was merely the heart of the new machine that Ford hoped to build. On weekends and most nights, he could be found in a shed in the back of the family home, building the rest of the car. So great was his obsession that the neighbors called him Crazy Henry. However, at 2:00 A.M. on June 4, 1896, Crazy Henry punched a large hole in the wall of his shed, and emerged at the wheel of an automobile — his automobile. In the weeks that followed, Ford was often seen driving around the streets of Detroit.
Later that year, Ford attended a national meeting of Edison employees. Thomas A. Edison had been Ford's idol for years. But at the meeting, it was Edison who asked to meet the young inventor, after word got around that the obscure engineer from Detroit had actually built an automobile. "Young man, you have the right idea," Edison said. "Keep right at it". Ironically, he was adamant that Ford not waste his time trying to make a car run viably on electricity.
Back in Detroit, Ford showed that he was no mere hobbyist: he sold his prototype for $200. For three years, he watched the new field of automaking develop, and he progressed along with it. In 1899, thirty American manufacturers — most of them based in New England — produced about 2,500 cars. Still, most Americans in the market for automobiles became accustomed to buying imported ones. In 1898, though, the domestic bicycle industry faced an unusual slump and many manufacturers decided to turn to automaking to keep the factories busy.
Offered a senior position and part ownership of a new company, the Detroit Automobile Co., Ford, thirty-six years old, quit the Edison Illuminating Company. Across town, the firm that would become Oldsmobile was launched at the same time. The Detroit Automobile Co. failed, without producing any cars, and Henry Ford was ousted by angry investors. (The firm survived, emerging from reorganization as the Cadillac Motor Car Company.)
Mitch Taylor
New South Wales, Australia